from saturday 10 july 2021 to sunday 22 august 2021
Snapshots of History
From July 10th to August 22nd from 10 AM to 7 PM.
A real time travel experience!
Daily meetings: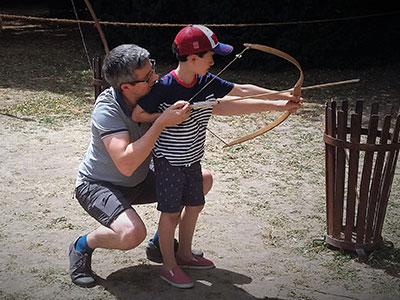 A very private History : clothing and hygiene of the 18th century revealed… (at 11 AM except Monday)
Taste of History: meet the 18th century cook… (from 12 AM to 5 PM except Monday)
Try the medieval archery and weapons! (from 11 AM to 1 PM and from 2 PM to 6 PM every day)
Ancient games at your disposal in the park… (from 11 AM to 6 PM every day)
---
Special Weekends !
Joan of Arc's Soldiers ! – July 17th and 18th.
1429 : Joan of Arc is back and the soldiers are settled at the castle. Discover weapons, artillery, fights and cooking. And of course, do NOT miss the arrival of Joan of Arc !
Long Live the Emperor ! – July 31st and August 1st.
Go back in time and learn the secrets of Napoleon's soldiers…
Meet the Musketeers ! – August 21st and 22nd
D'Artagnan and his friends are back for wonderful shows… and lessons !!!
Meet them at 11:30 AM, 2:30 PM, 3:30 PM, 4:30 PM, 5:30 PM.
---
Covid-19 :
This event respects the governemental sanitary instructions.
Programm may change due to governemental instructions (Covid-19).