Languages



Unguided tour for adults – guidebook available in :
English
German
Spanish
Nederlands
Russian
Italian
Chinese







Unguided tour for children – guidebook for children (5-12 years old)


Payment method
Terms of payment: cash, bank card, CNAV, etickets.








Changing babies facilities





WARNING : dogs are allowed in basket ONLY !
---
Accessibility :
Visitors with limited mobility : please be aware that only half of the tour is accessible. Please introduce yourself at the entrance so our staff can open the convenient gate. Concession (please present written proof at the service desk) : reduced price (10€)
Blind or partially-sighted visitors : specific leaflet (in French only) at your disposal. Please ask.
Visitors with other disabilities : reduced price (10€) – please present written proof at the service desk.
Reduced price apply to visitors with limited mobility or other disabilities only.
---
The temperature in the undergrounds is 12°C all year : make sure you have your jackets !
---
SOMETHING TO EAT ?
Treat yourself :
grab a snack at the catering place : at the Peckish Stop, you can treat yourself with pizza, panini, quiches, croque-monsieur, belgian waffles, crêpes and ice-cream… (closed in October/November)
have a cookie at the shop. Unless you'd rather bring back some local treats at home…
have a nice picnic in the park (free luggage storage at the desk )
Useful links
---
---
Quality Tourim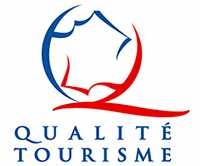 The region Centre Val de Loire : a top quality destination !
The castle of Meung sur Loire, as well as many tourist sites of the Region Centre, in partnership with Regional Tourism Committee of Touraine and Loiret, has entered a qualification program approved by the French state.
We are proud to annonce that the Castle was rewarded with the label in 2015.
The general purpose of this program is to provide our visitors with a distinctive mark notifying trustworthy establishments.
Any establishment in this program offers:
personalized reception
clear and precise information
qualified and helpful staff
clean and worthy place
personalized local tourism information
This national brand is based on :
shared quality standards
continued improvement tools (professionalization and optimization in the site management)
adapted tools to ensure French and foreigners visitors qualified services
---
By entering this program, the sites aim to reinforce their services level in order to win the national brand Qualité Tourisme™.
More information about the label
---
Eating
Establishment
Distance
Address
Le café du commerce
(brasserie)
0 km
5, place du Martroi
45130 Meung sur Loire
+33 (0)9 86 24 34 44
A la Maison
(traditional cuisine)
0 km
3, place du Martroi
45130 Meung sur Loire
+33 (0)2 38 46 12 99
Pizzeria La Terrasse
(pizzas)
0 km
5, rue Emmanuel Troulet
415130 Meung sur Loire
+33 (0)2 38 44 30 70
Crêperie Les Hortensyas
(pancakes)
0 km
42, bis rue Jehan de Meung
45130 Meung sur Loire
+33 (0)2 38 45 38 49
Café-vélo Le Tandem
0 km
22, rue Emmanuel Troulet
45130 Meung sur Loire
+ 33 (0)2 18 88 91 87
Le Carrousel (Best Western) (brasserie )
0,5 km
21, route de Blois
45130 Meung sur Loire
+33 (0)2 18 69 30 51
La Capitainerie
(snack)
1 km
Port du bout du monde
45130 Meung sur Loire
+33 (0)6 67 88 01 52
Le Relais Louis XI
(gourmet cooking)
1 Km
2, rue Saint Pierre
45130 Meung sur Loire
+33 (0)6 64 22 81 28
L'ovale de Loire
(traditional)
1 Km
4, rue du Général de Gaulle
45130 Meung sur Loire
+33 (0)2 38 44 34 62
Au Clos des Vignes
(gastropub)
3 Km / 5 mn
5, rue André Raimbaud
45130 Baule
+33 (0)2 38 45 01 02
La Table des Tontons
( traditional cuisine )
3 km / 5 mn
113, rue Abbé Pasty
45130 Baule
+33 (0)2 38 14 15 04
L'écu de Bretagne ***
( traditional cuisine )
7 Km / 10 min
Place du Martroi
45190 Beaugency
+33 (0)2 38 44 67 60
Le Beaugency
7 km / 10 mn
3, route de Blois
45190 Beaugency
+33 (0)2 38 46 43 43
Le petit bateau
( traditional cuisine )
7 Km / 10 mn
54, rue du pont
45190 Beaugency
+33 (0)2 38 44 56 38
Le relais du Château
( traditional cuisine – fish )
7 km / 10 mn
8, rue du pont
45190 Beaugency
+33 (0)2 38 44 55 10
Made in Loire
(gastropub)
7 km / 10 mn
12, place du Petit Marché
45190 Beaugency
+33 (0)2 34 59 27 32
L'Idée
( traditional cuisine )
7 km / 10 mn
3, place du petit Marché
45190 Beaugency
+33 (0)2 45 48 24 78
César et Firmin

7 km / 10 mn
1 bis, Place Saint Firmin
45190 Beaugency
+33 (0)9 83 03 08 17
La Tonnellerie ****
(traditional cuisine )
10 Km / 15 min
12, rue des Eaux Bleues
45190 Tavers / Beaugency
+33 (0)2 38 44 68 15
---
Accommodations
Accomodation
Distance
Adresse
Les Coursives de Loire
0 km / 1 mn
3 bis, rue pomme de pin
45130 Meung sur Loire
+33 (0)6 48 81 16 94
Les Mauves
0 km / 1mn
11, impasse du Fort
45 130 Meung sur Loire
+33 (0)6 82 13 59 05
B&B L'Etape des châteaux
0,5 km / 2 mn
44, rue Jehan de Meung
45130 Meung sur Loire
+33(0)6 16 98 23 61
Hôtel La Porte des Chateaux (Best Western)
0,5 km / 2 mn
21, route de Blois
45130 Meung sur Loire
+33(0)2 18 69 30 50
Coeur de Loire
(unusual accomodation)
0.7 km / 2 mn
Quai Jeanne d'Arc
45130 Meung sur Loire
+33 (0)6 67 88 01 52
L'Eau Vive
0.7 km / 2 mn
53, rue du Général de Gaulle
45130 Meung sur Loire
+33(0)6 14 58 28 78
Hôtel l'ovale de Loire
0,8 km / 2 mn
4, rue du Général de Gaulle
45130 Meung sur Loire
+33(0)2 38 44 34 62
La Croix Cassée

1 km / 3 mn
5, rue de la Haute Croix
45130 Meung sur Loire
+33(0)2 38 45 28 87
La Folie Hubert
1 km / 3 mn
41, rue des Marais
45130 Meung sur Loire
Domaine de St Hilaire
1 km / 3 mn
17, rue St Hilaire
45130 Meung sur Loire
+33 (0)6 14 38 90 97
Les Chaffaux
1 km / 3 mn
29, rue de Chateaudun
45130 Meung sur Loire
+33(0)2 38 62 04 88
Hôtel Le Relais Louis XI
1 km / 3 mn
2, rue Saint Pierre
45130 Meung sur Loire
+33(0)2 38 44 27 71
Gîte La Courtin
1,5 km / 3 mn
12, rue abbé Pasty
45130 Baule
+33(0)2 38 44 48 52
La Mouche
3 km / 5 mn
La Mouche
45130 Meung sur Loire
+33(0)2 38 44 34 36
Gite du Parc des Mauves
3 km/ 5 mn
10, route de la Bâtissière
45130 Meung sur Loire
+33(0)6 03 53 39 27
La Nivelle
3 km / 5 mn
30, Route de la Bâtissière
Hameau de La Nivelle
45130 Meung sur Loire
+33(0)2 38 44 34 38
Hôtel Ibis budget **
3 km / 5 mn
1000, rue 6ème avenue
45130 Meung sur Loire
+33(0)8 92 68 30 86
La Bonnerie
4 km / 5 mn
135 Route de Clan
45130 Meung sur Loire
+33(0)2 38 44 28 26
Château de Bel Air
4 km / 5 mn
Clos de Bel Air
45130 Meung sur Loire
+33(0)2 38 45 35 82
Mme DRUGEAULT – HUGUET
4 km / 5 mn
rue Francis Carret
45370 Dry
+33(0)2 38 62 04 88
Le Clos de la Vigneronne
5 km / 5 mn
19, rue de Villeneuve
45190 Messas
+33 (0)2 34 50 01 70
Gîte L'Anglochère
5 km / 5 mn
45130 Baule
+33(0)2 38 62 04 88
La Joubertine
5 km / 5 mn
87, rue Robert Goupil
45130 Le Bardon
+33(0)2 38 44 29 74
L'étoile du Berger
5 km / 5 mn
128, rue Robert Goupil 45130 Le Bardon
+33 (0)6 51 64 27 20
Le clos Tilia
5 km / 5 mn
8, rue de Meung
45370 Cléry Saint André
+33(0)2 38 45 74 65
Mr et Mme COUTANT
5 km / 5 mn
78, rue de Saint André
45370 Cléry Saint André
+33(0)2 38 45 74 81
Arnaud PRUVOST
6 km / 8 mn
45130 Saint Ay
+33(0)2 38 77 29 85
Hôtel de la Sologne ***
7 km / 10 mn
6, place St Firmin
45190 Beaugency
+33(0)2 38 44 50 27
Les Cèdres
7,5 km / 11 mn
20, rue basse
45130 Saint Ay
+33(0)2 38 63 56 57
Le Relais des Templiers **
7,5 km / 11 mn
68, rue du pont
45190 Beaugency
+33(0)2 38 44 53 30
L'écu de Bretagne ***
8 Km / 12 min
Place du Martroi
45190 Beaugency
+33(0)2 38 44 67 60
Grand Hôtel de l'Abbaye ***
8 km / 12 mn
2, quai de l'Abbaye
45190 Beaugency
+33(0)2 38 45 10 10
Le Manoir de la Perrière
8 km / 12 mn
24, rue de la Perriere
45190 Messas
+33(0)6 85 46 14 45
Hôtel Restaurant Le Beaugency **

8 km / 12 mn
3, route de Blois
45190 Beaugency
+33(0)2 38 46 43 43
Château de la Touanne
8 km / 12 mn
45130 Baccon
+33(0)2 38 46 51 39
Madame BAUMANN
9 km / 15 mn
36 bis, rue de la Groue
45 380 Chaingy
+ 33 (0)2 38 43 30 90
La Grolle
9 km / 15 mn
18, rue de la grolle
45380 Chaingy
+33(0)2 38 80 65 68
La Tonnellerie ***
10 Km / 15 mn
12, rue des Eaux Bleues
45190 Tavers
+33(0)2 38 44 68 15
Gîte Danielle DREUX
10 km / 15 mn
Rue du grand clos
45190 Tavers
+33(0)2 38 62 04 88
Mr & Mme TERLAIN
11 km / 15 mn
74 bis, rue des eaux bleues Les Gratelièvres
45190 Tavers
+33(0)2 38 44 92 58
Mr & Mme FOURNIER
11 km / 15 mn
115 rue des eaux bleues Le Clos de Pont Pierre
45190 Tavers
+33(0)2 38 44 56 85
Château de Guignes
12 km / 20 mn
29 rue de Guignes
45190 Tavers
+33(0)2 38 46 43 63
La Tour de Guignes
12 km / 20 mn
44, rue de Guignes
45190 Tavers
+33(0)6 83 68 55 88
Mr & Mme RIBIERAS DEFARGES
13 km / 20 mn
200, Impasse de Montpipeau
45130 Huisseau sur Mauves
+33(0)2 38 74 09 35
Novôtel Orléans La Source ***
26 km / 30 mn
2 rue Honoré de Balzac
45071 Orléans
+33 (0)2 38 63 04 28
---